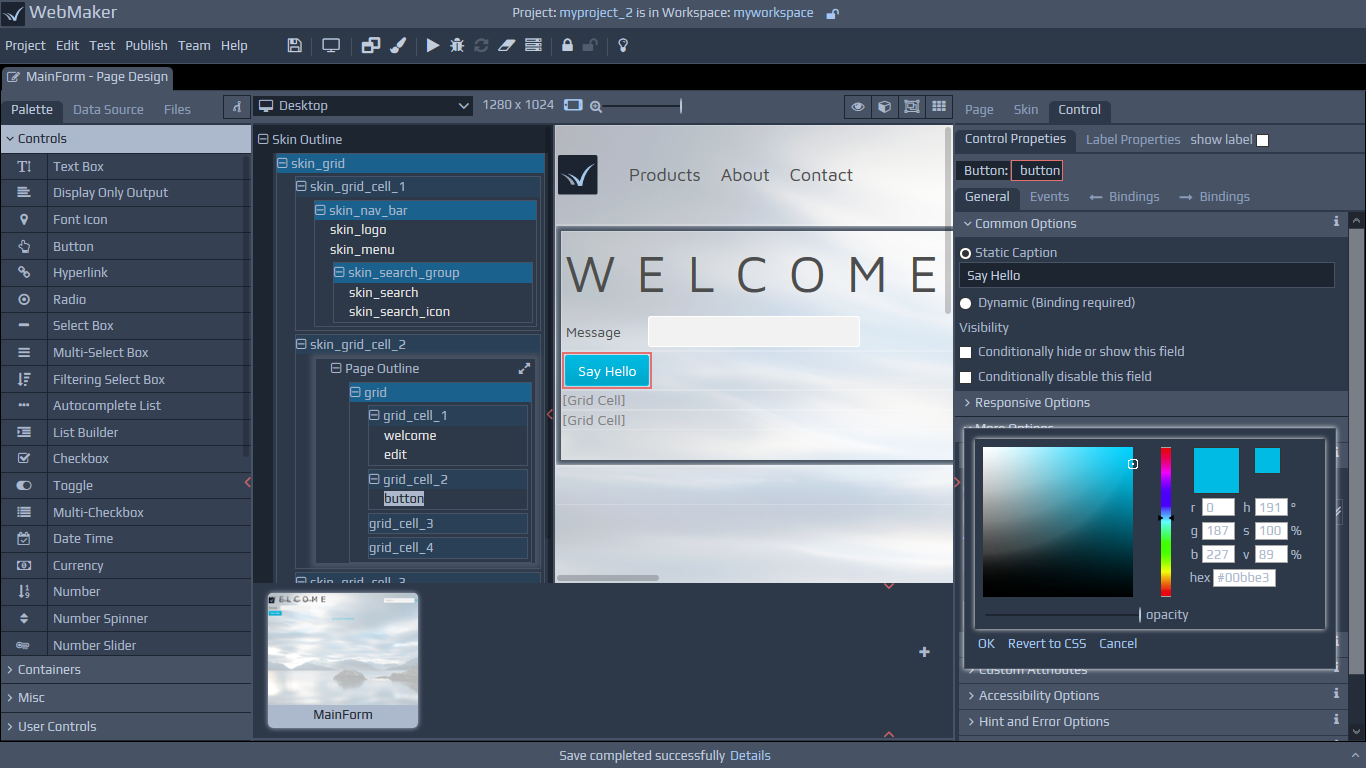 WebMaker is now available on a SAAS basis
WebMaker is now more accessible than ever before. WebMaker 10.5 can be used online at https://webmaker.hyfinity.com.
There is a comprehensive range of payment and installation options for Cloud and on-premise systems. You are now able to purchase on a subscription or perpetual basis. More...
WebMaker Lite is FREE
WebMaker 10.5 also includes a generous new Lite Edition which enables you to build complete web pages and deploy them to a server of your choice without any cost. You will have access to WebMaker's comprehensive range of features, including the Theme Designer and the responsive Grid Designer.
Improved Grid and Container Layout Visualiser
The Grid View has been improved to enable you to simply drag and drop to create grids within grids and more easily visualise your page layout.
You can now more easily identify the boundaries between your controls, containers, and grids. There is better integration between the Outline View, the Page View and the Grid Layout View, enabling you to get a complete understanding of the layout and behaviour of your front end.
Whether you are building stunning landing pages or wire-framing a more complex enterprise application, WebMaker now makes it easier than ever before to get you there faster. Of course you still have access to the comprehensive range of WebMaker's renowned enterprise application development features.
New Text Controls
As well as the extensive range of data bound controls, WebMaker 10.5 now includes new controls for easily adding various headings, taglines, and other text content to your pages.
Automatic Font Scaling
All themes provided with WebMaker 10.5 now include automatic scaling of text content based on device breakpoints. This makes use of various SASS mixins that are available to use in your own themes and customisations.
Integrated Help Search
You can now search for help directly from the Studio and get answers from the forum, website and documentation as part of the same request.
Extensive Browser Support
The WebMaker 10.5 Studio is now fully usable in Apple's Safari desktop browser, as well as all other modern desktop browsers including Google Chrome, Mozilla Firefox, and Microsoft Edge.
More Features introduced in WebMaker version 10